Scottish Natural Heritage (SNH) asked us to talk about Red Squirrels to one of their researchers, as the Dundee Red Squirrel Project had identified our sanctuary as an area frequented by the local Red Squirrel population.

An SNH representative was making a study of natural areas within urban environments, and was particularly interested in how much enjoyment people in urban environments get from having areas of natural beauty nearby.

Her reaserch was to be used to raise awareness of the plight of the Red squirrel and to compile a presentation of findings for publication to government bodies.

Scottish TV came to film the squirrels in our garden sanctuary for a North Tonight (STV's evening news) programme, to raise awareness of the plight of the red squirrel in the UK.
STV news crew with Ken Neil of DRSP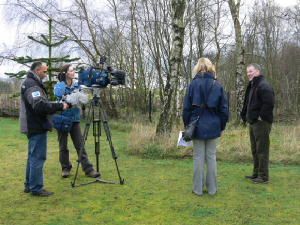 The Dundee Red Squirrel Project sponsor a promotional DVD, and ask to film the red squirrels in the sanctuary.

Two cameramen came and set up a small hide in the garden. They filmed for a few hours, lying amongst the ferns in the undergrowth in freezing conditions with frost on the ground, but the end result was well worth it as it's a super DVD.

The BBC came to the sanctuary for three days of filming red squirrels for a new series called 'the nature of Britain', presented by Alan Titchmarsh. The series producer Stephen Moss was delighted with the amount of squirrel footage they'd managed to get, and both he and cameraman Steve Phillipps went back to Bristol very happy. The BBC broadcast the series in October 2007 on BBC 1.
One of BBCs top wildlife cameramen Steve Phillipps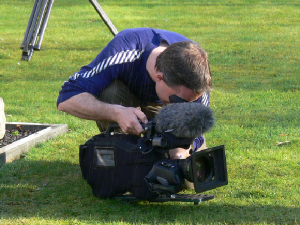 Dundee City Council spent millions of pounds on renovating Baxter Park, one of several parks within the Dundee area. The official opening ceremony was held on 2nd July, and was attended by HRH Queen Elizabeth and HRH Prince Philip.
The Dundee Red Squirrel Project had one of the many information/promotional stands in the park that day, and one of their enormous free standing information boards was one of our photo's with a four foot high squirrel.
Prince Philip with Dundee City Council Rangers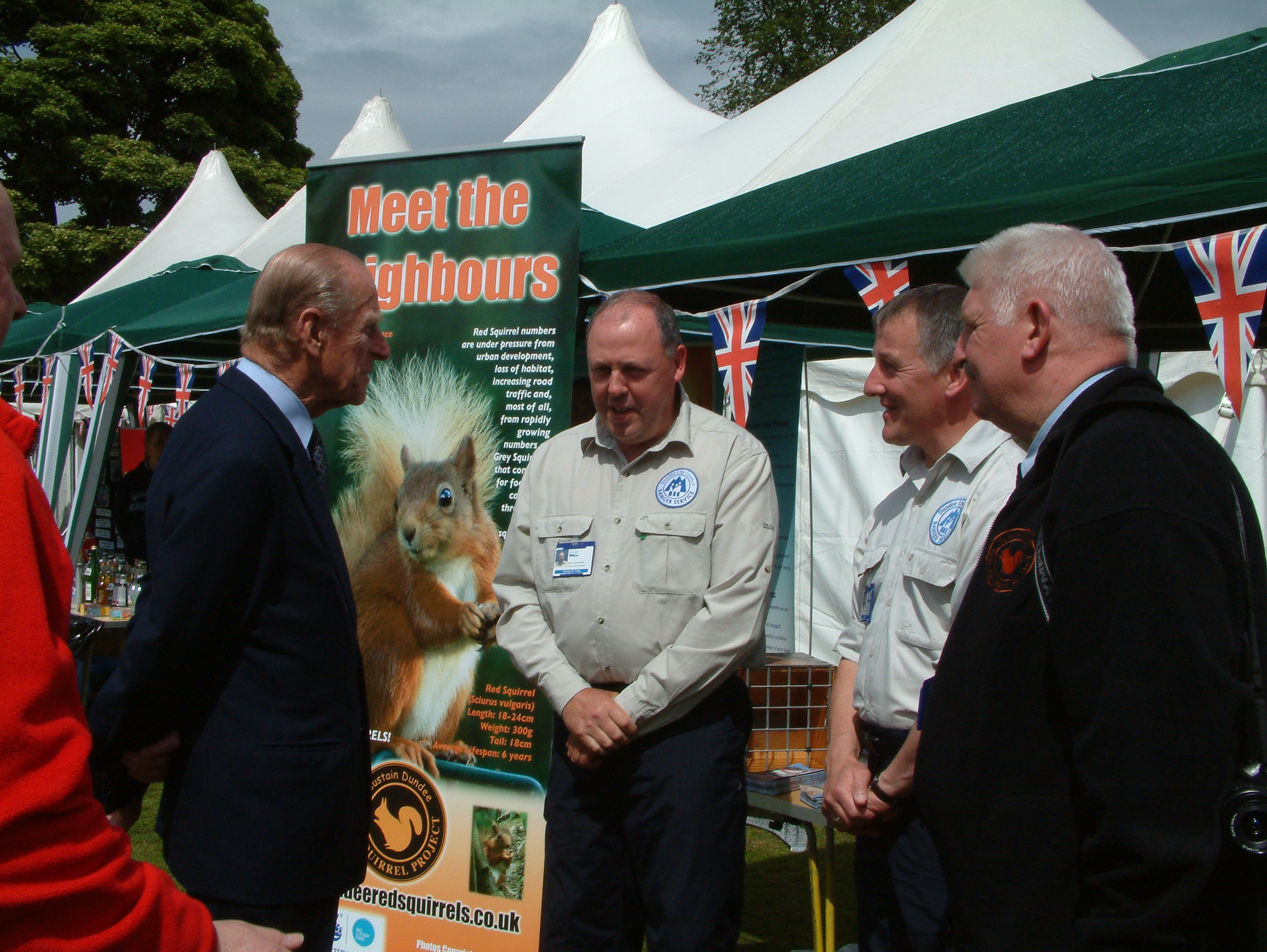 We were contacted by the Photo Editor of The New York Times Magazine, who was producing an article about the effects on the red squirrel population in Britain since the introduction of American grey squirrels in the 19th century. The editor asked if they could send a photographer from New York to take photos of red squirrels in our garden sanctuary to use in their article. The photographer was here for 6 days, and took over 3,500 photos of the squirrels and surrounding countryside. The article was published on 7th October 2007 and can be read at www.nytimes.com/pages/magazine
The composite picture published by The NYT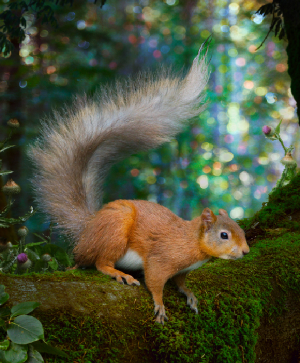 Children from Kingspark Primary School presenting a cheque for £90. The children raised the money at their Christmas fair selling cards and Christmas decorations based on their poject about Red squirrels.
Children from Kingspark Primary School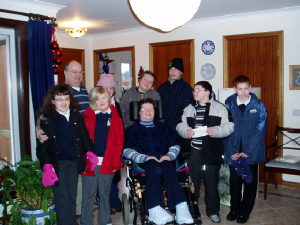 Visitors from the Red Squirrel Childrens Nursery on an educational field trip, doing a bit of squirrel spotting.
Field trip for the Red Squirrel Childrens Nursery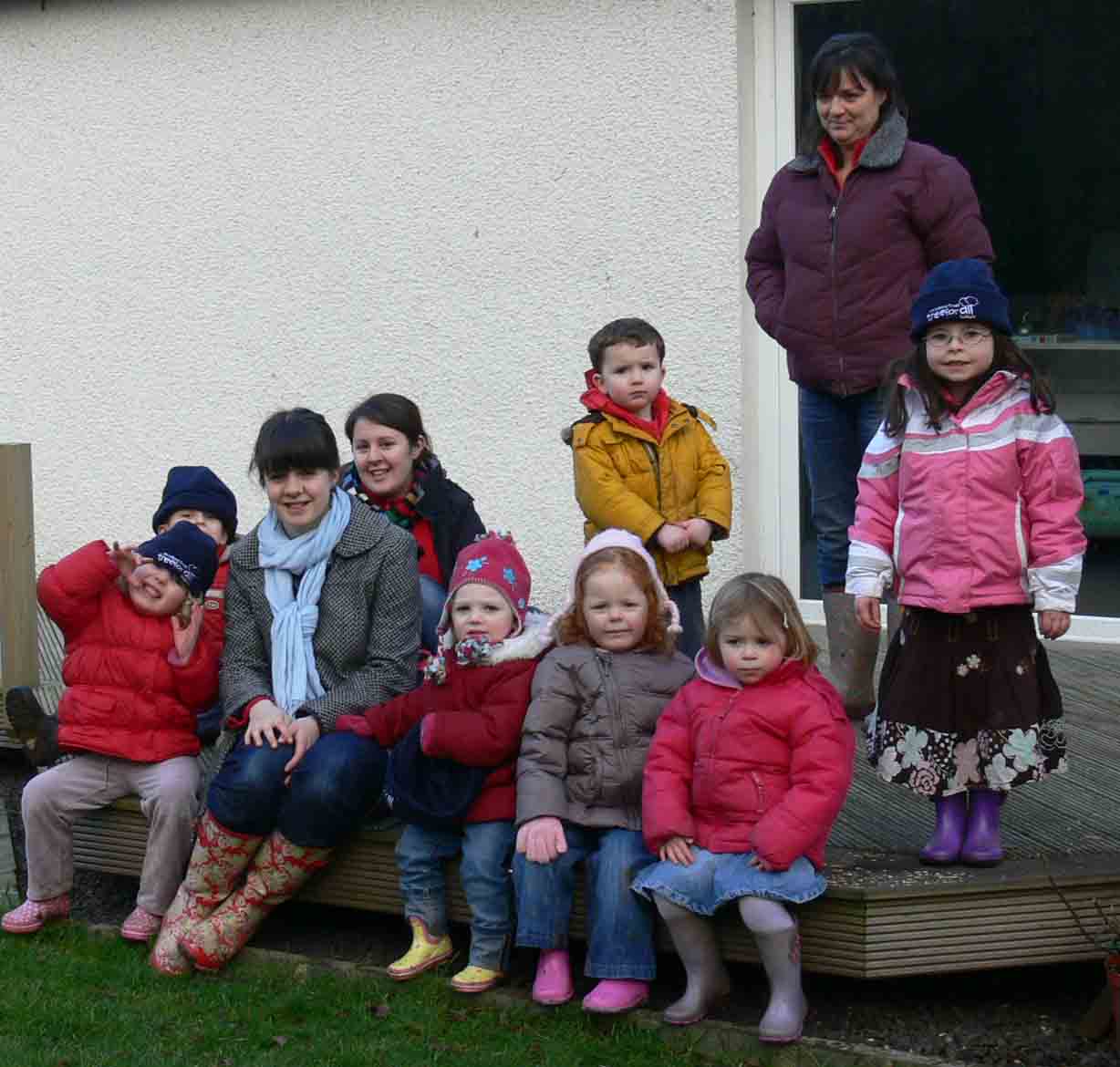 Our first release of a squirrel back in to the wild. 'Caledon' was found near Banff in the north of Scotland and given to the Scottish SPCA. He was only 3 weeks old and still had his eyes shut when found. The Scottish SPCA hand reared him for a further 5 weeks at their rescue centre in Dunfermline Central Scotland. At 8 weeks old they were looking for a home for Caledon where his progress could be monitored. They brought him to the sanctuary for release and we marked his tail so that he could be identified for a short time. The Scottish SPCA have released 19 baby squirrels in our sanctuary, which have come from all over Scotland. With all this diversity in the gene pool from these new arrivals, it bodes well for a healthy Red Squirrel population locally.
Baby Caledon at 4 weeks old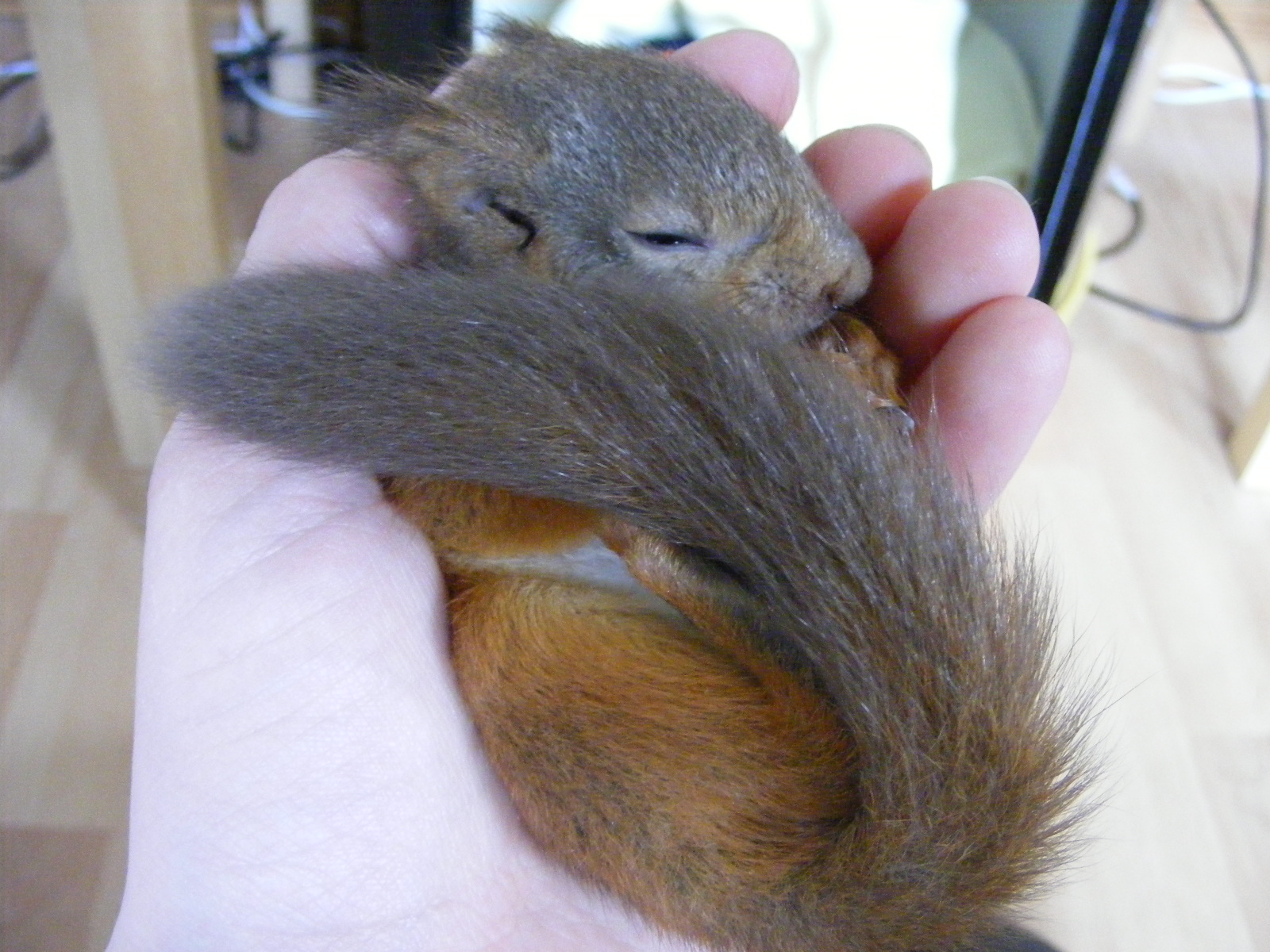 Release day for Caledon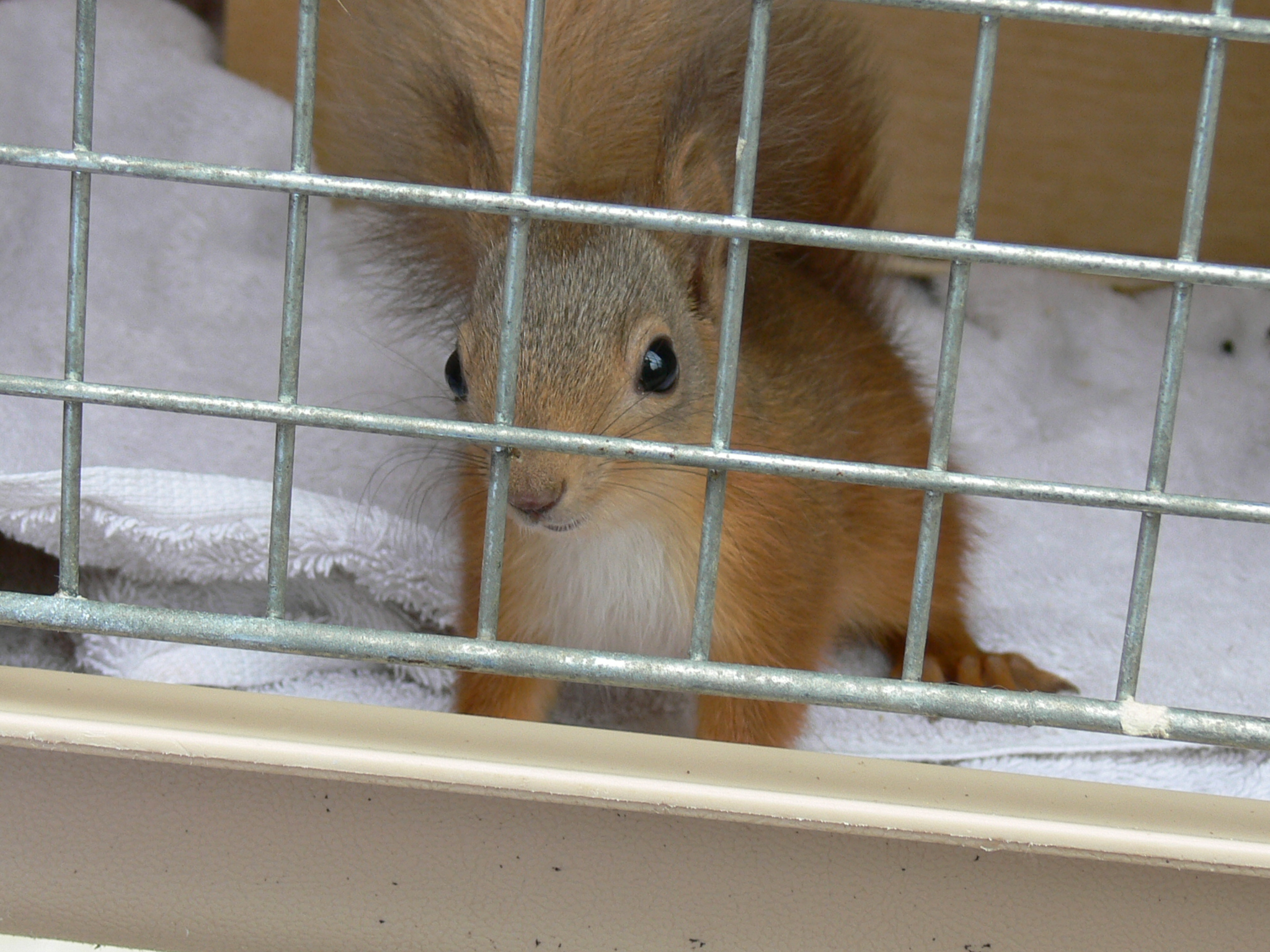 Caledon - complete with yellow tail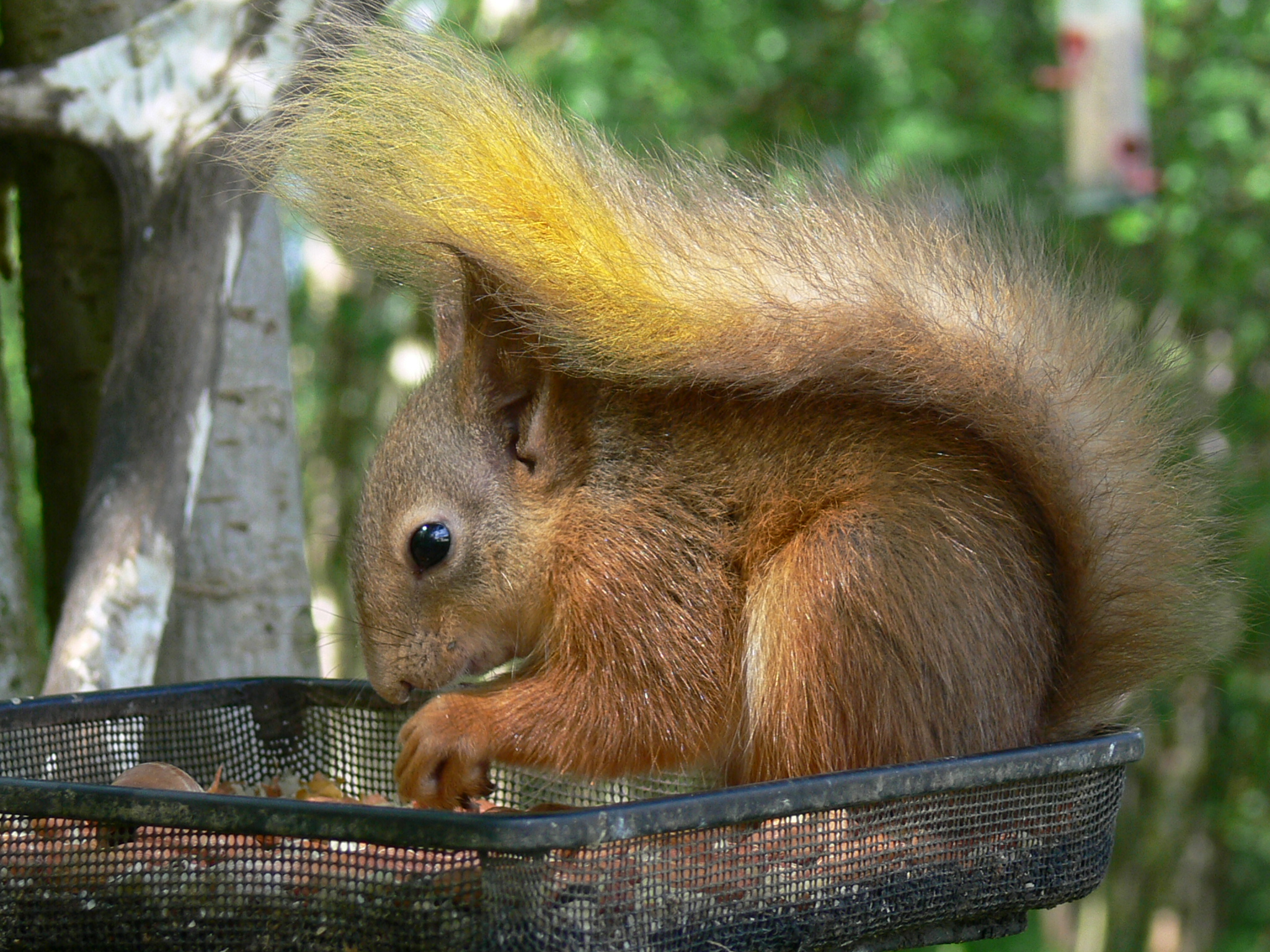 'Beavers' from the 46th Angus Scout Troupe visiting the sanctuary. They were there to listen to Dundee City Council's Countryside Ranger Ken Neil, who was giving a talk about the Red Squirrels.
46th Angus Beaver Scout Troupe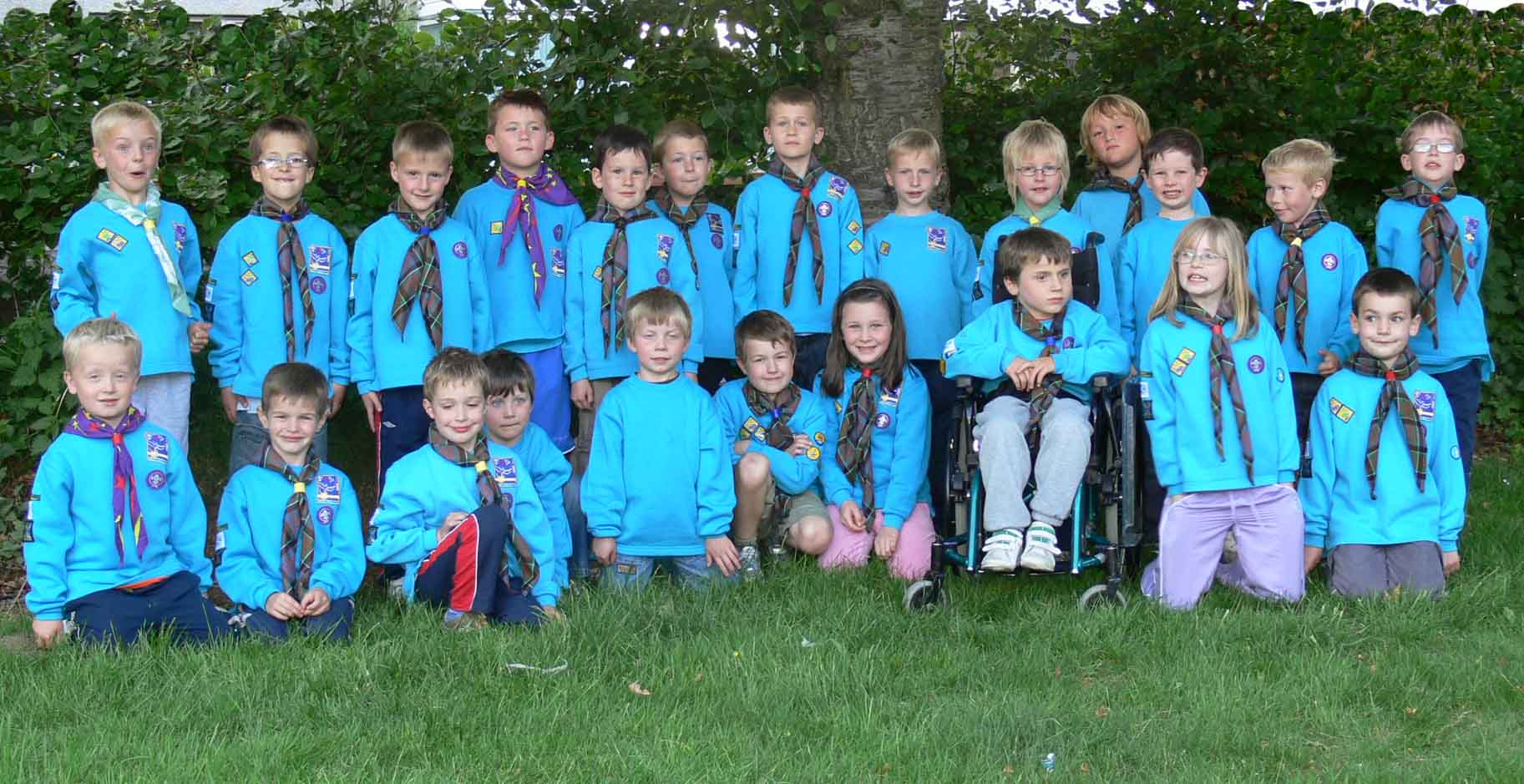 A film crew from the BBC arrived to get more footage of Red Squirrels. The BBC were producing a series of programmes to be aired in the Autumn of 2008 on making your garden wildlife friendly, called 'wild about your garden'. They were filming at our sanctuary to show what could be done in residential gardens and to highlight the variety of animals that could be attracted there.
Alistair & Jamie filming and recording for the BBC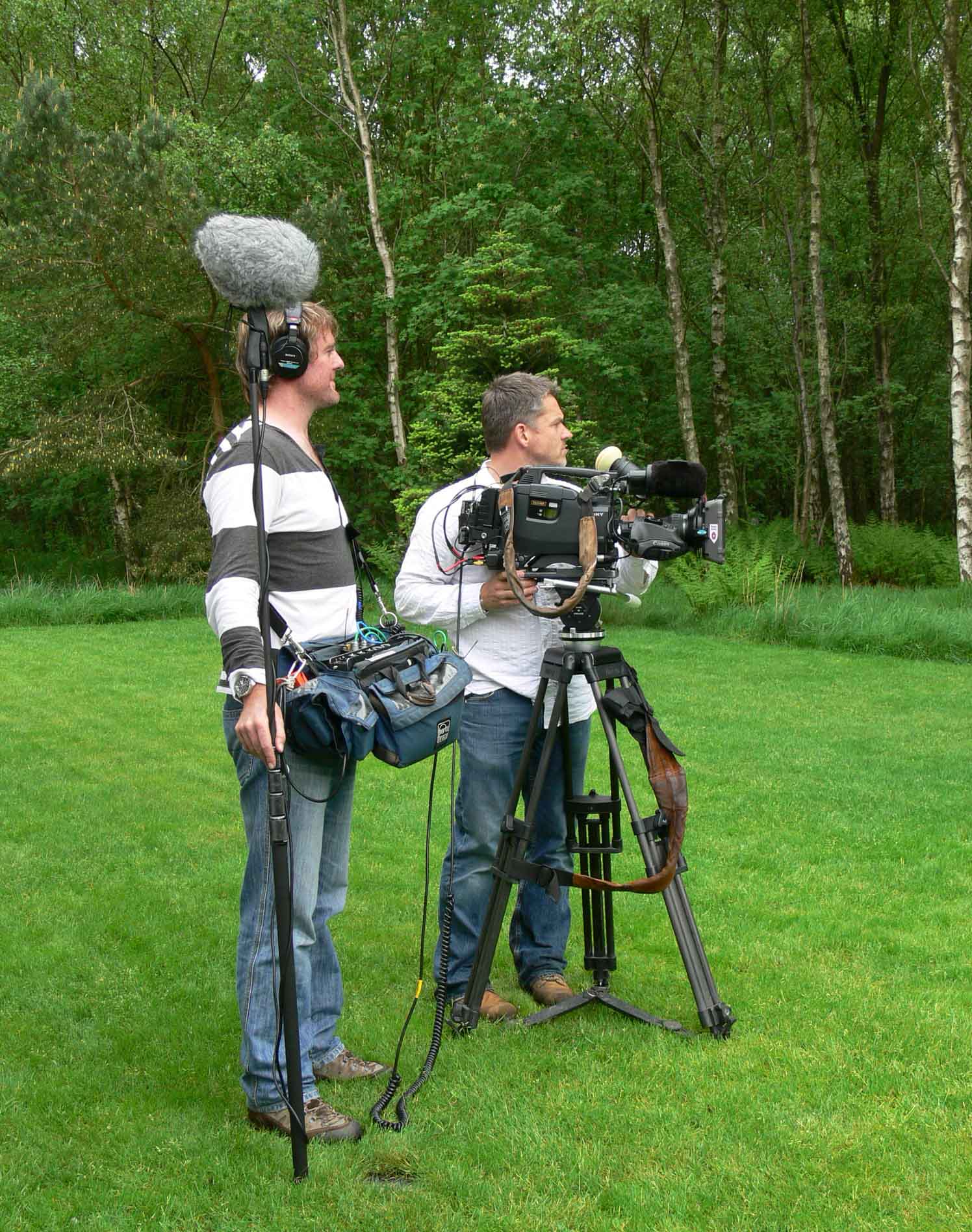 Ellie Harrison - one of the BBC presenters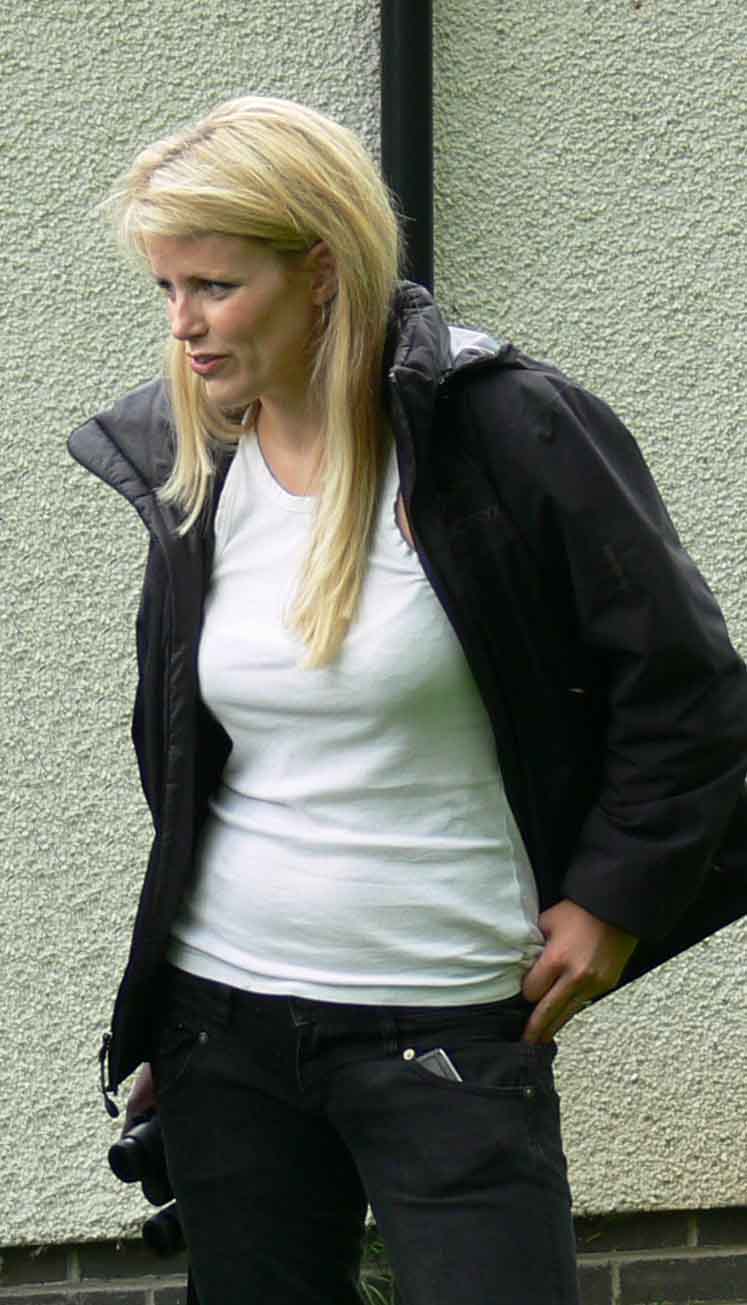 A new sponsor joins us at the Sanctuary for 2008/2009. Anne Smith, managing director of Keep-Safe Storage Centres, presents sanctuary owners Jimmie and Rosie with a cheque for £500, to help with boundary fencing to protect the wildlife.
Jimmie & Rosie receiving a cheque from Anne Smith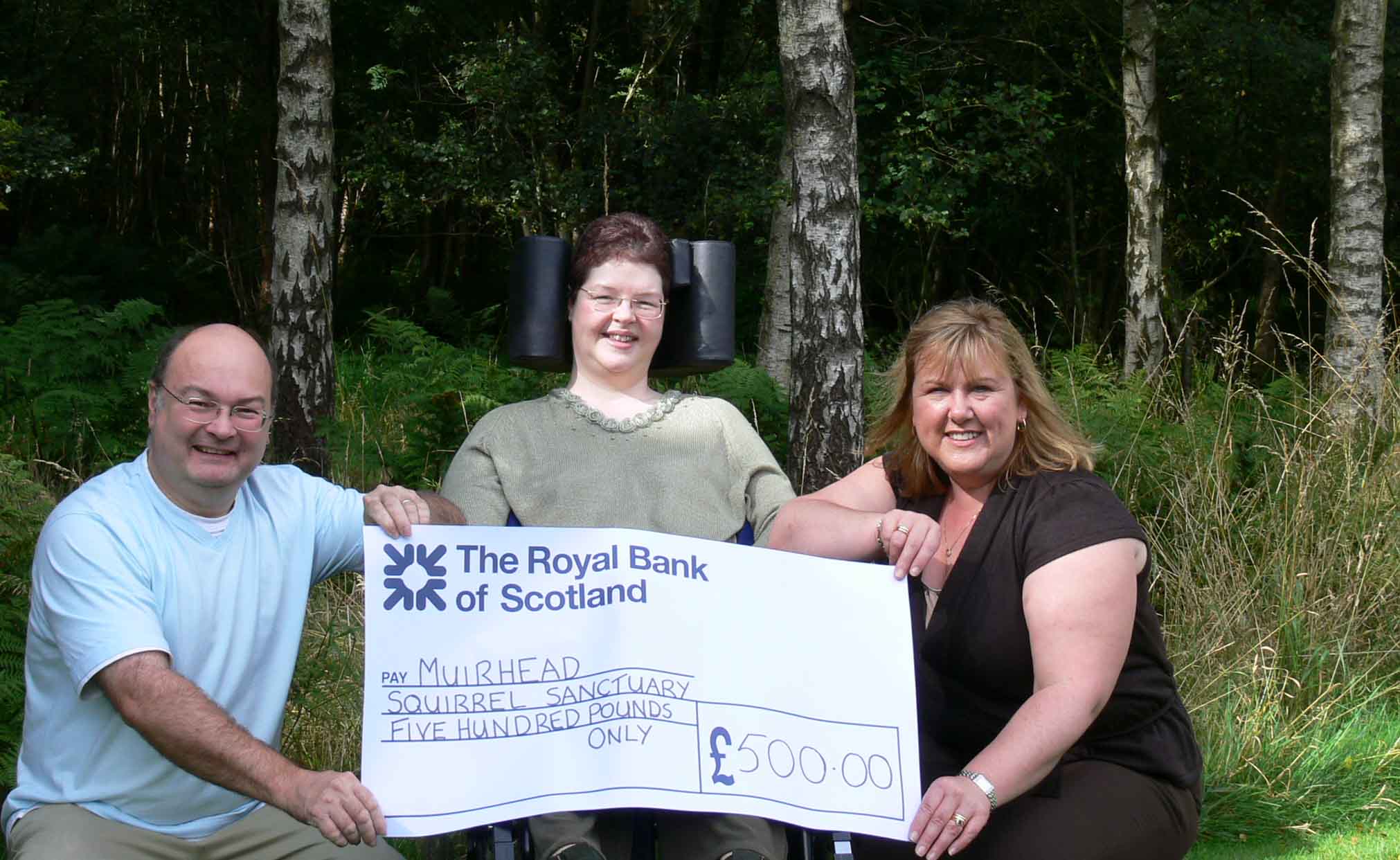 CSV Action Earth and Scottish Natural Heritage award a grant of £250 towards fencing, and the purchase of bird, bat and hedgehog boxes.
CSV Action Earth volunteers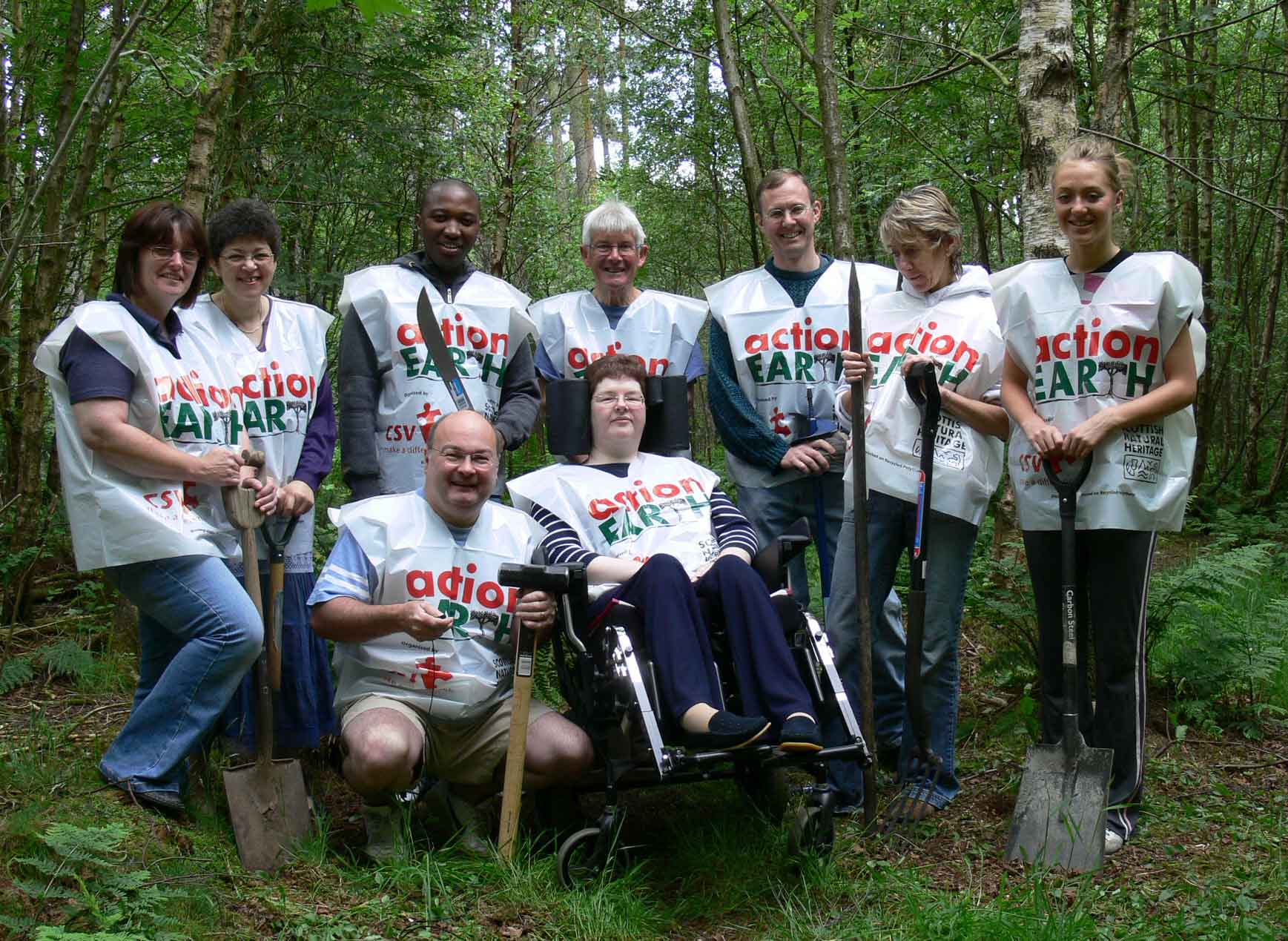 The Scottish SPCA asked if we would adopt 10 young hedgehogs (hoglets). A film crew from Tigress Productions filming for Animal Planet arrived with the Scottish SPCA field officer to hand over the hoglets. Animal Planet were making a 13 part series to be aired in October 2009, which followed the daily events of their animal rescue staff based in Scotland.
SSPCA officer Nadia with film crew and hoglet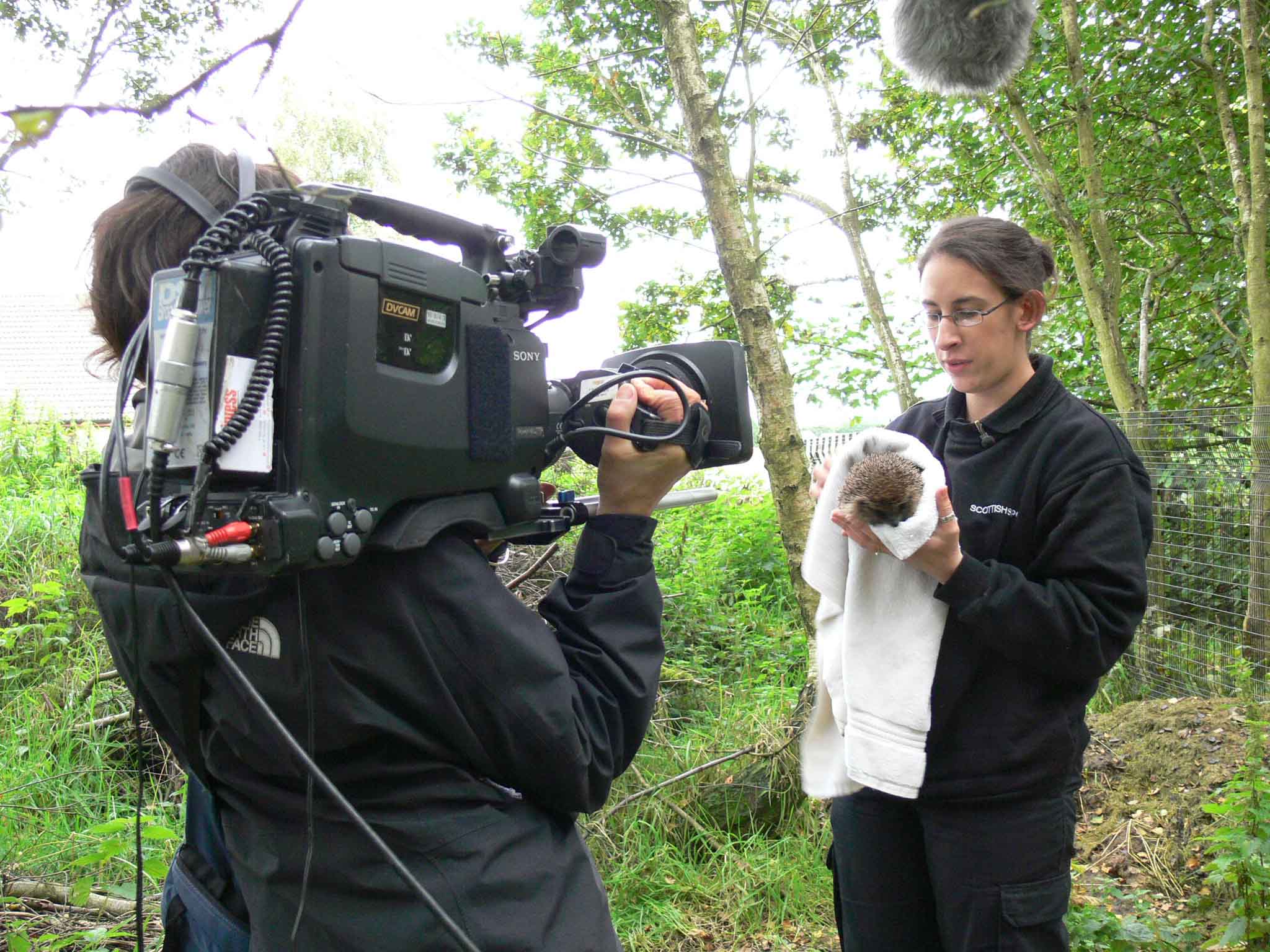 Scottish SPCA officer with hoglet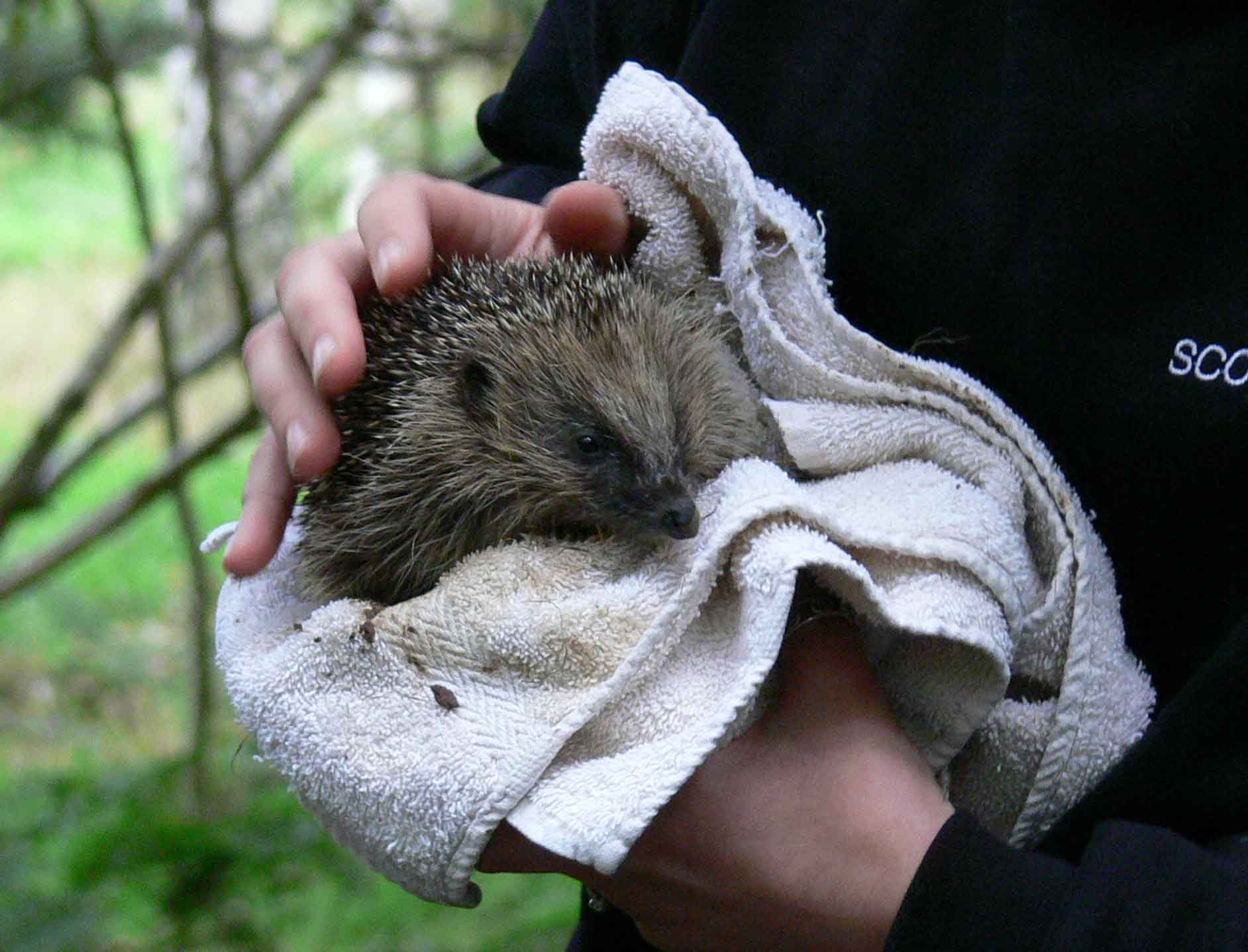 Hoglet heading back to the wild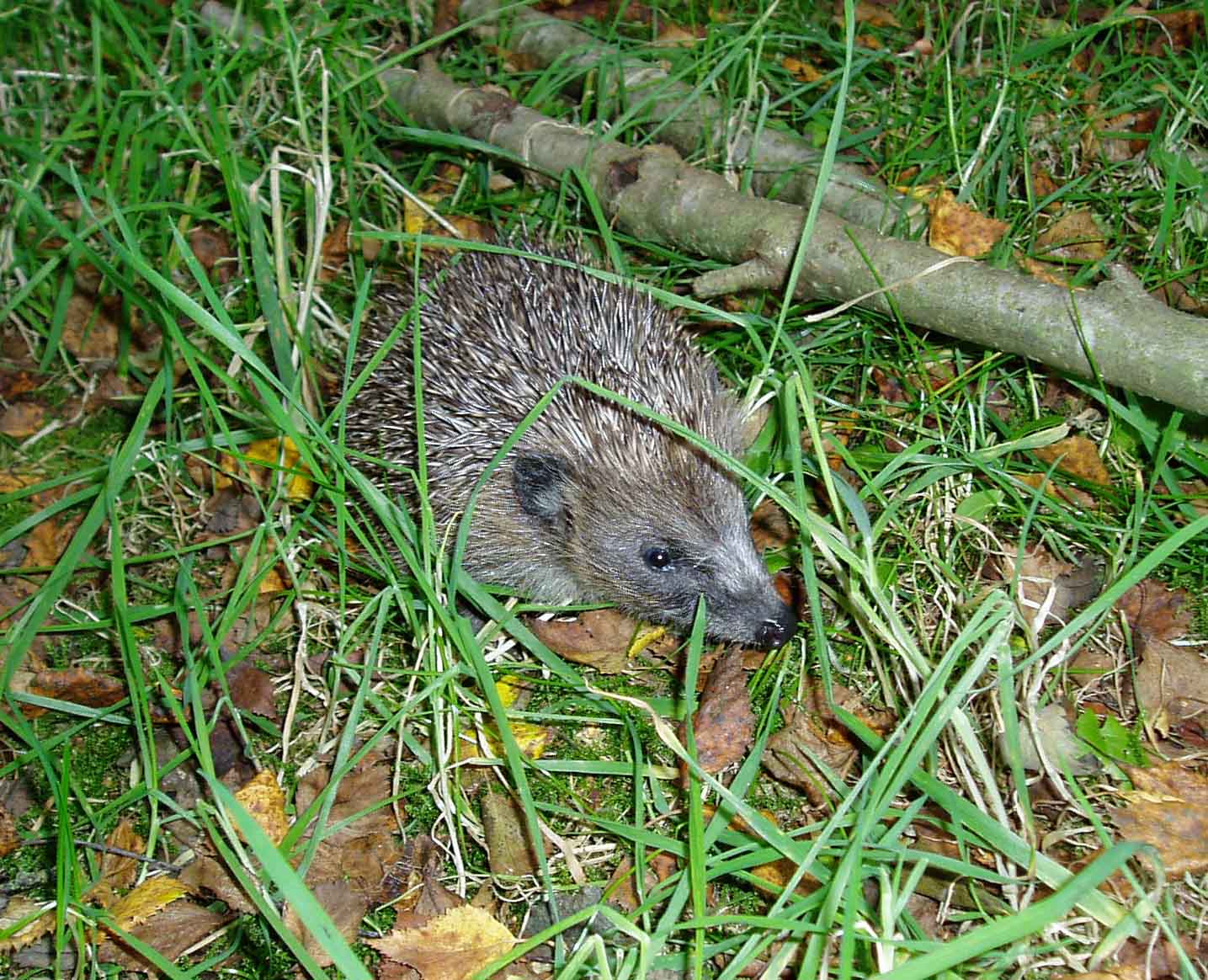 A field trip by Tiddly Winks pre school childrens nursey to do a bit of red squirrel spotting.
Tiddly Winks visitors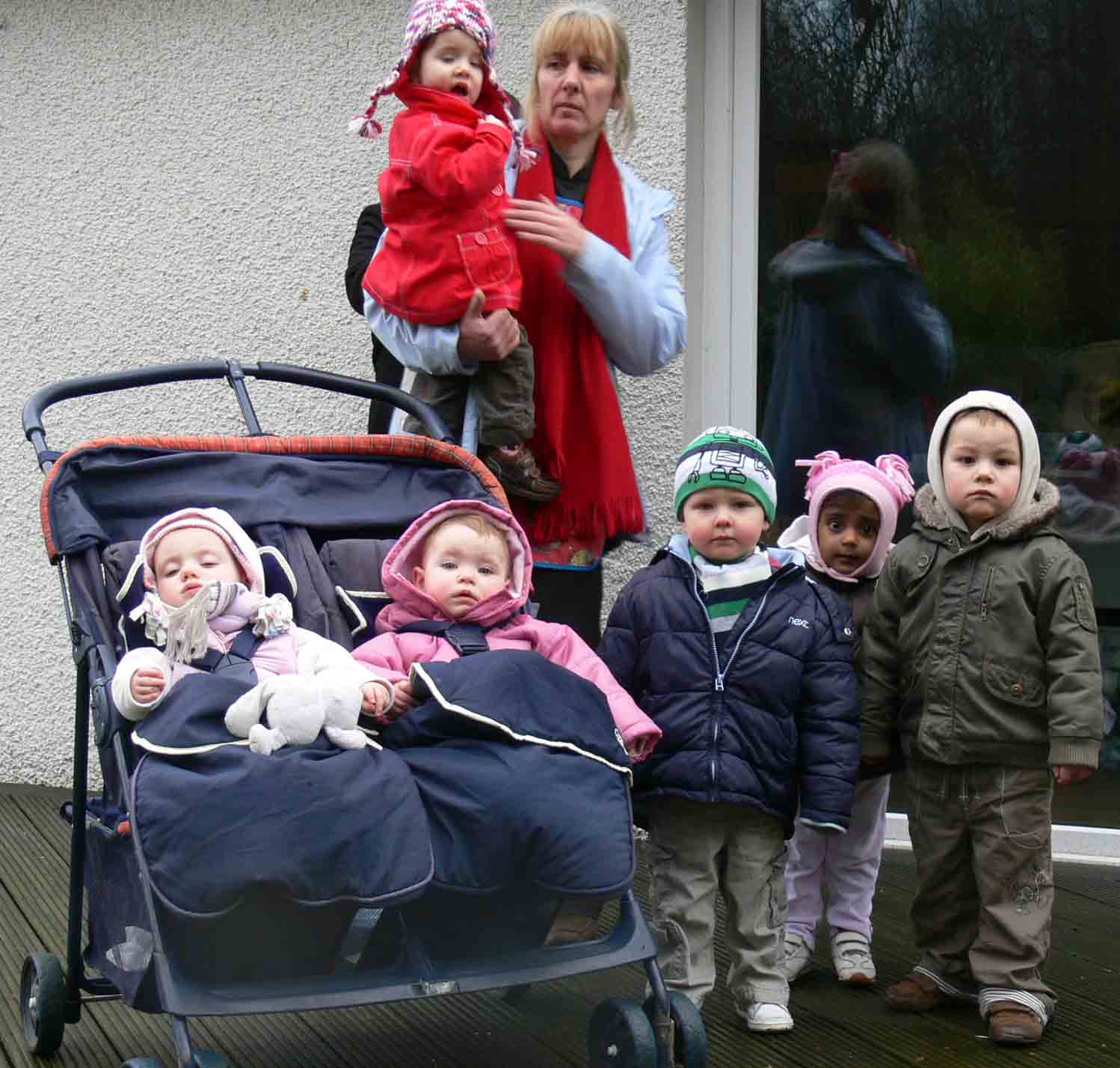 A Brownie pack visits the sanctuary to receive a talk from Dundee City Council Wildlife Ranger Brian Tasker as part of their Nature badge.
Brownie Pack and Ranger Brian Tasker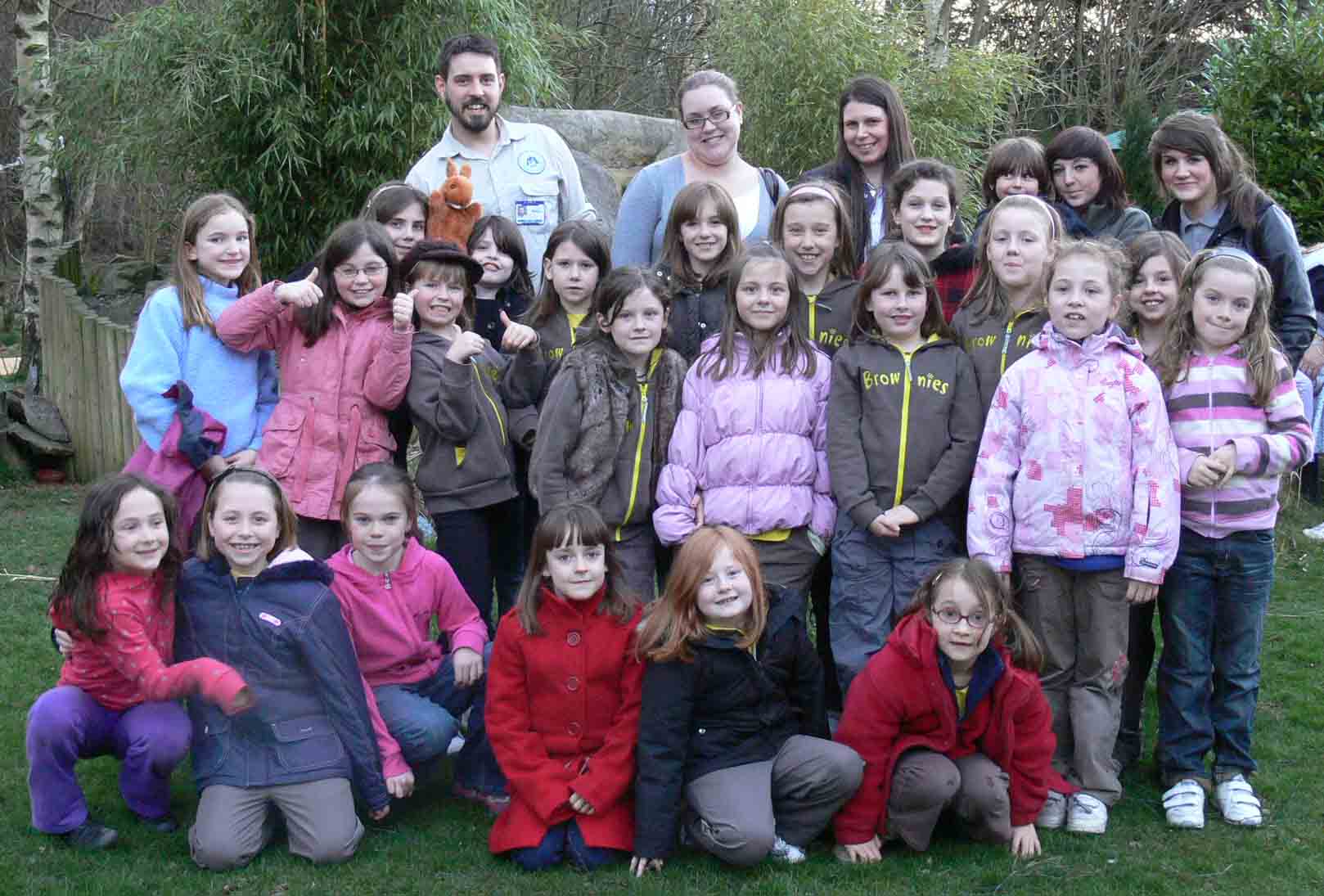 The first section of our all weather disabled access is opened by Cllr. John Whye from Angus Council. Supporters and friends attend the ceremony.
Cllr John Whytte opening all weather disabled path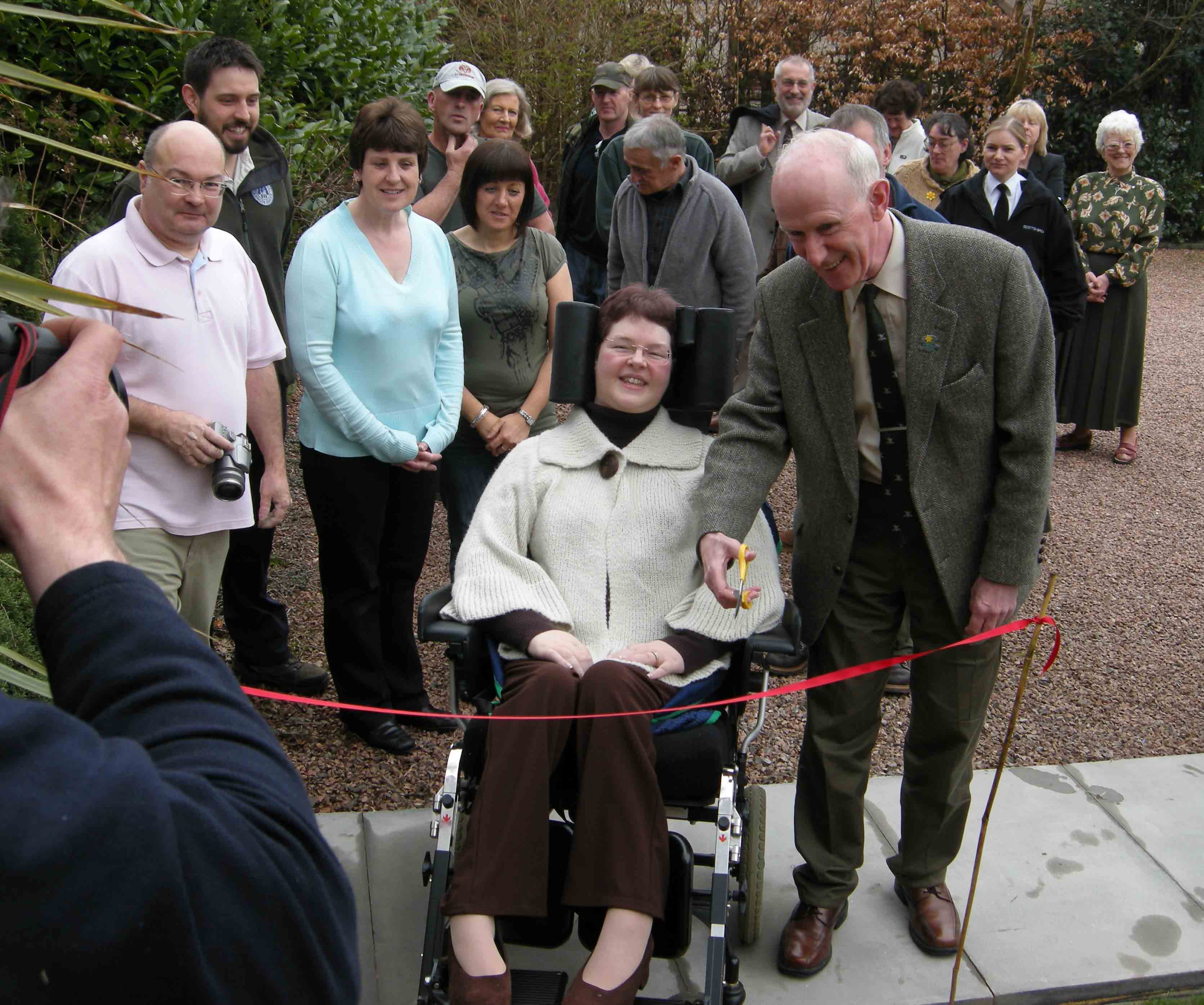 The local Rainbow Pack visits to go red squirrel spotting and to hear Scottish Wildlife Trust Officer Ken Neil tell them about the life of the red squirrel and how we can all help to save them from extinction.
Rainbow's given a talk by an SWT officer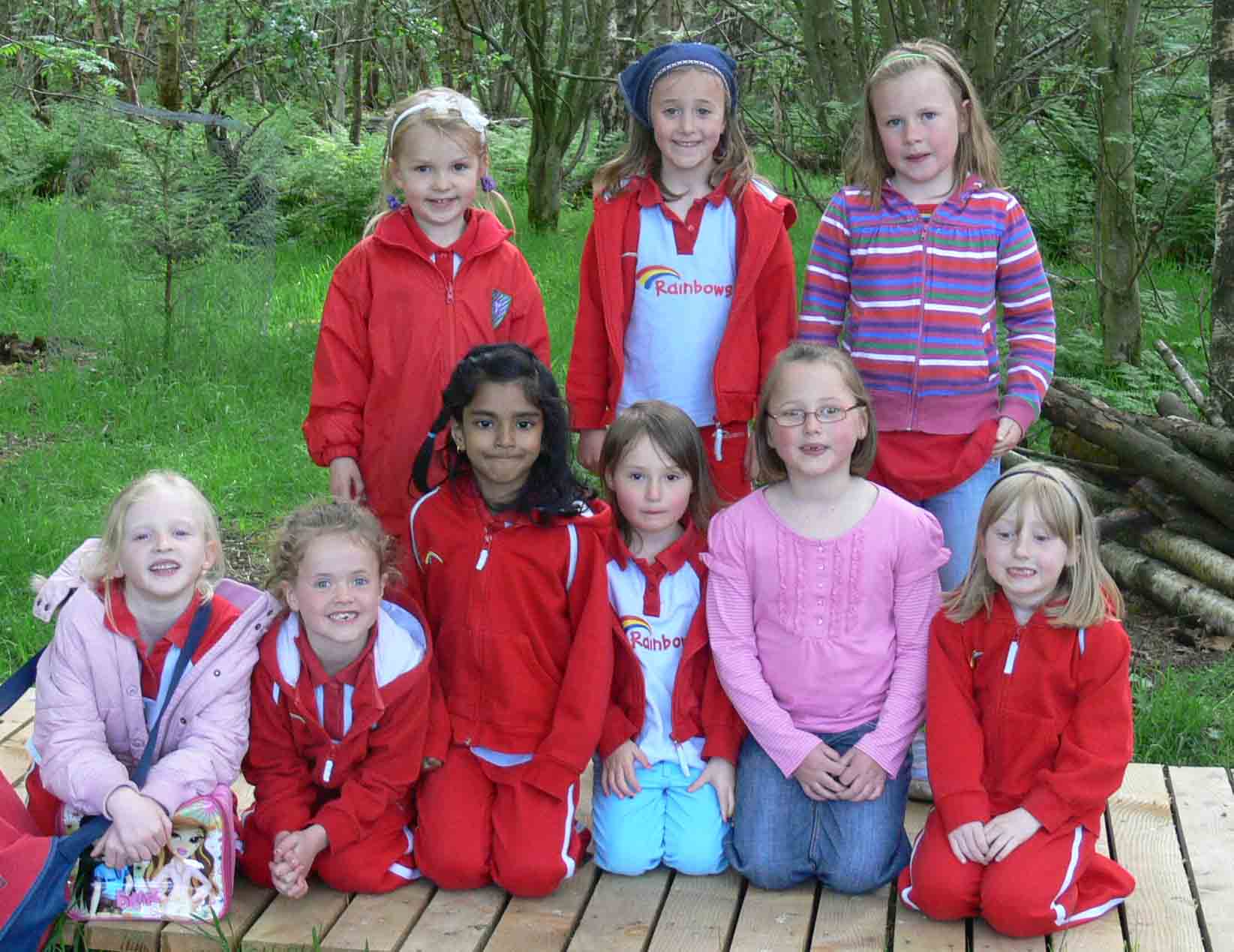 Scottish SPCA officers Colin Sedon and Krystal Aitcheson arrive with a film crew from channel 5 to record the release of a baby red squirrel called 'Aussie'.
Channel 5 were making a series of programmes to be shown in August 2009 called Michaela's Animal Road Trip. In this episode they were filming the relase of Aussie back into the wild after being cared for and weaned by Krystal at the Scottish SPCA rescue center in Dunfermline.
Channel 5 film 'Aussie' and sanctuary owner Rosie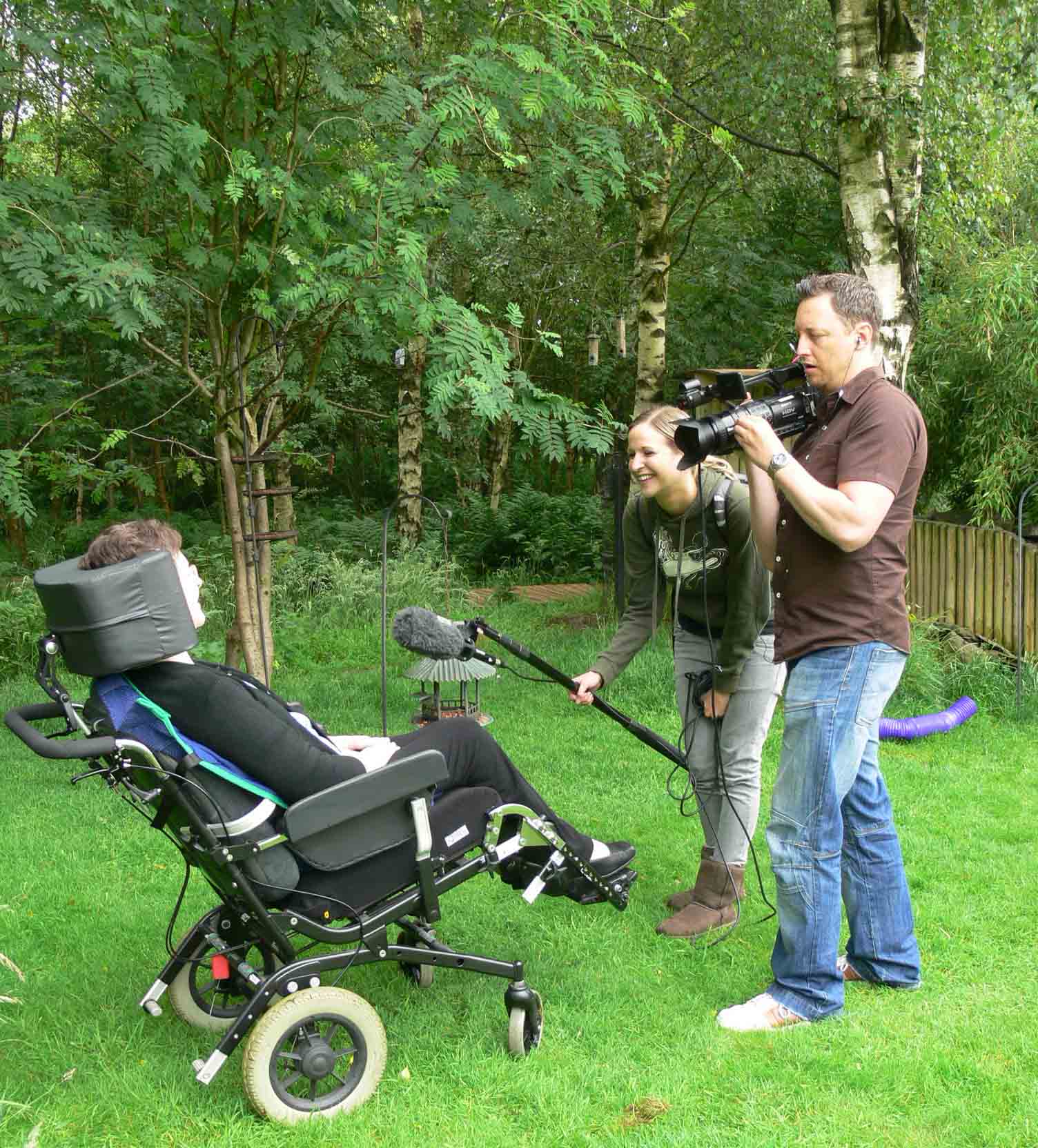 Scottish SPCA officers transport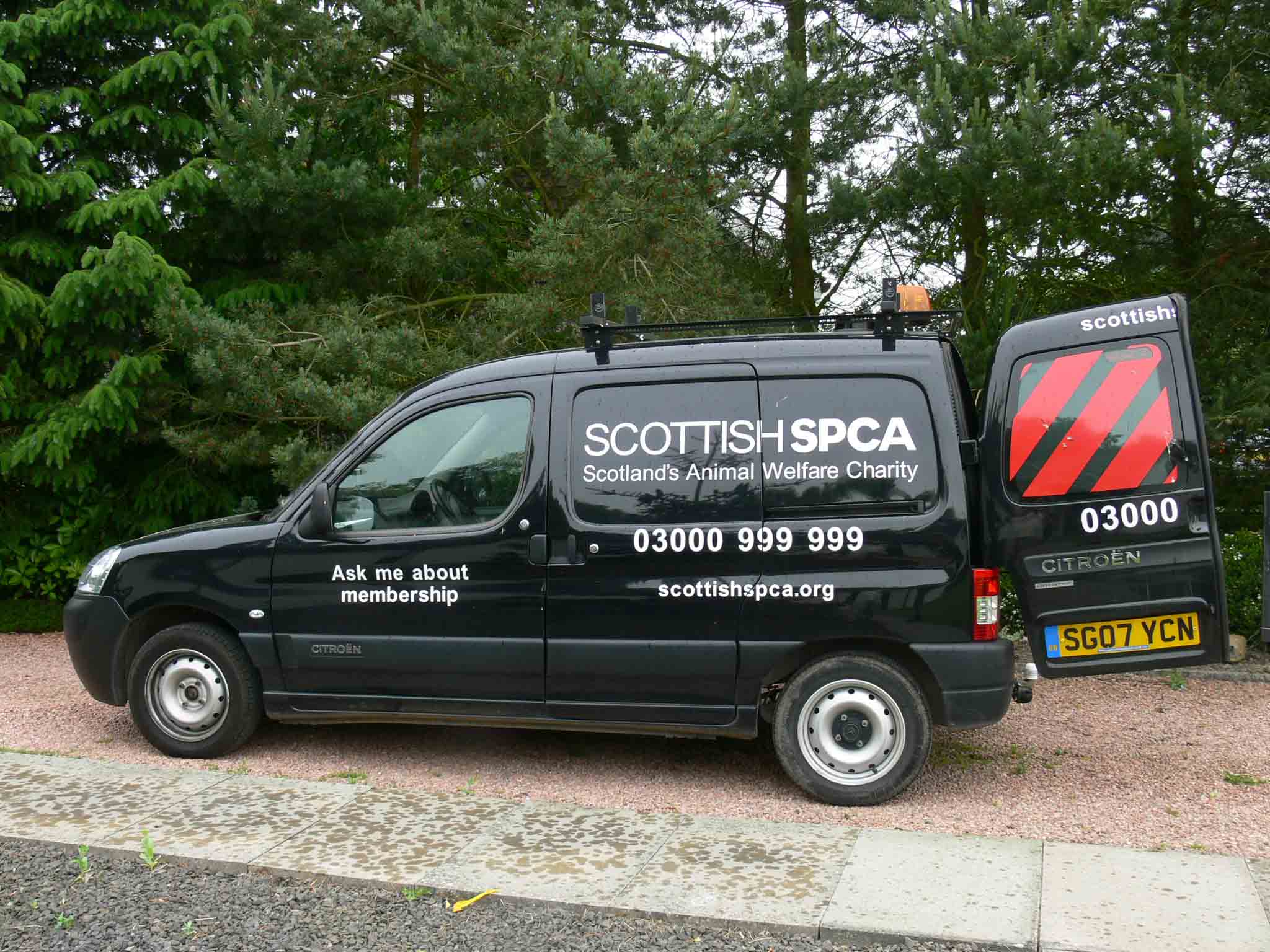 But 'Aussie' doesn't want to go!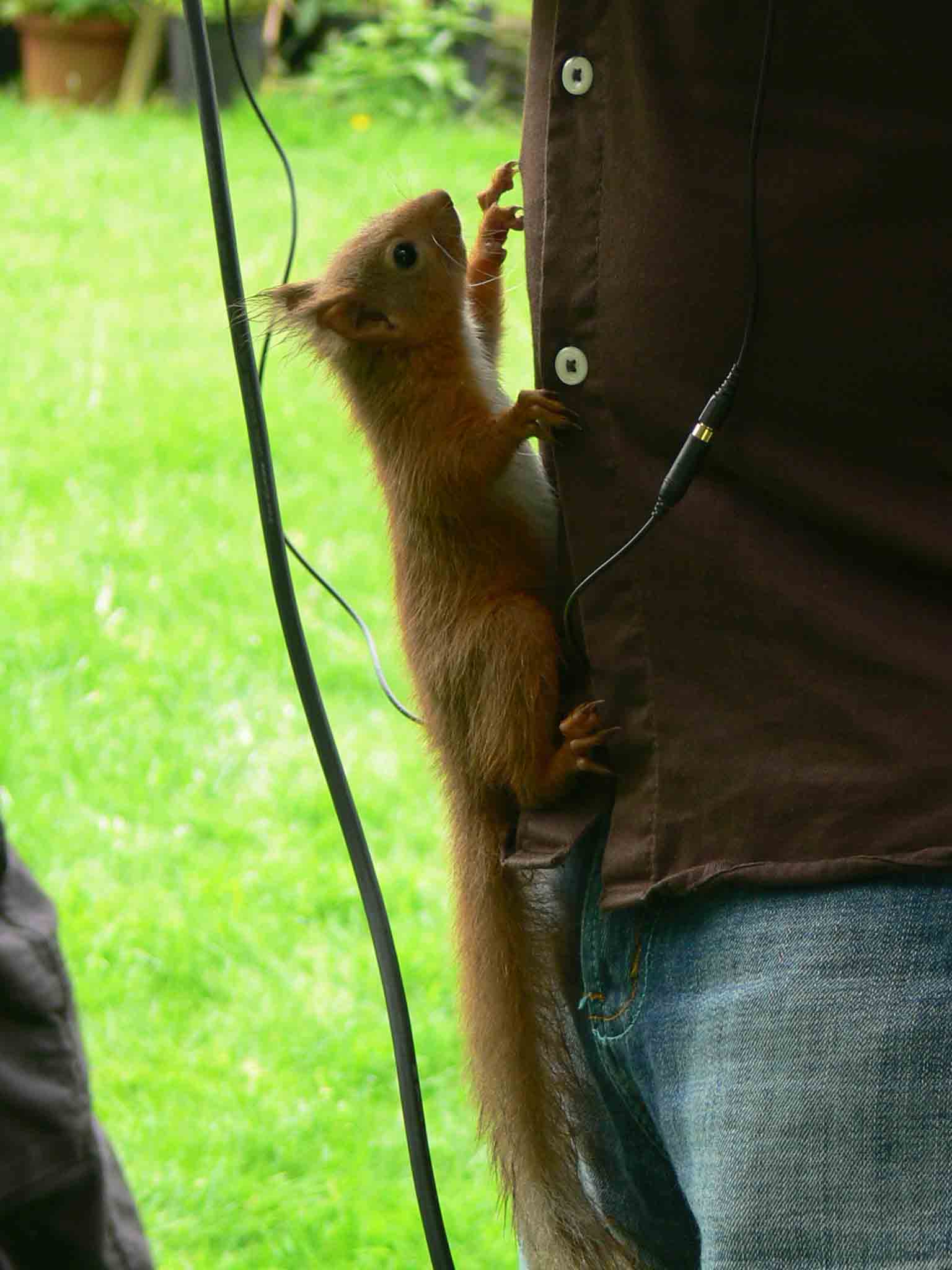 Scottish SPCA Officers Bob and Krystal return to the sanctuary with 5 more orphaned hedgehogs. The sanctury can offer a safe environment for these youngsters to get use to being back in the wild before moving on to explore new pastures for themselves.
These 2 officers obviously enjoy their work; and seeing the animals they have cared for returning to the wild makes it all the more special.
Scottish SPCA officer preparing to release hoglet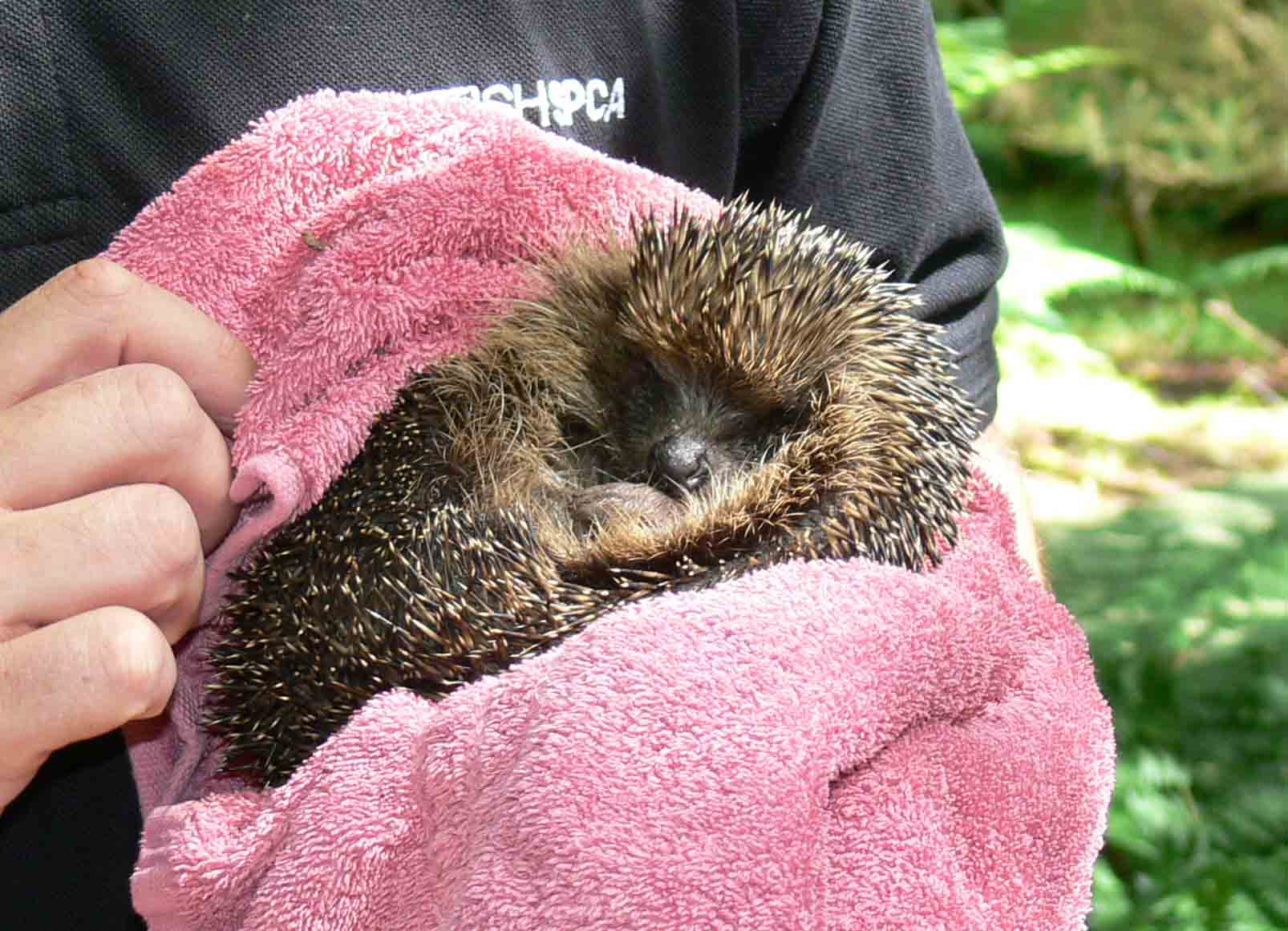 2 happy Scottish SPCA officers after the release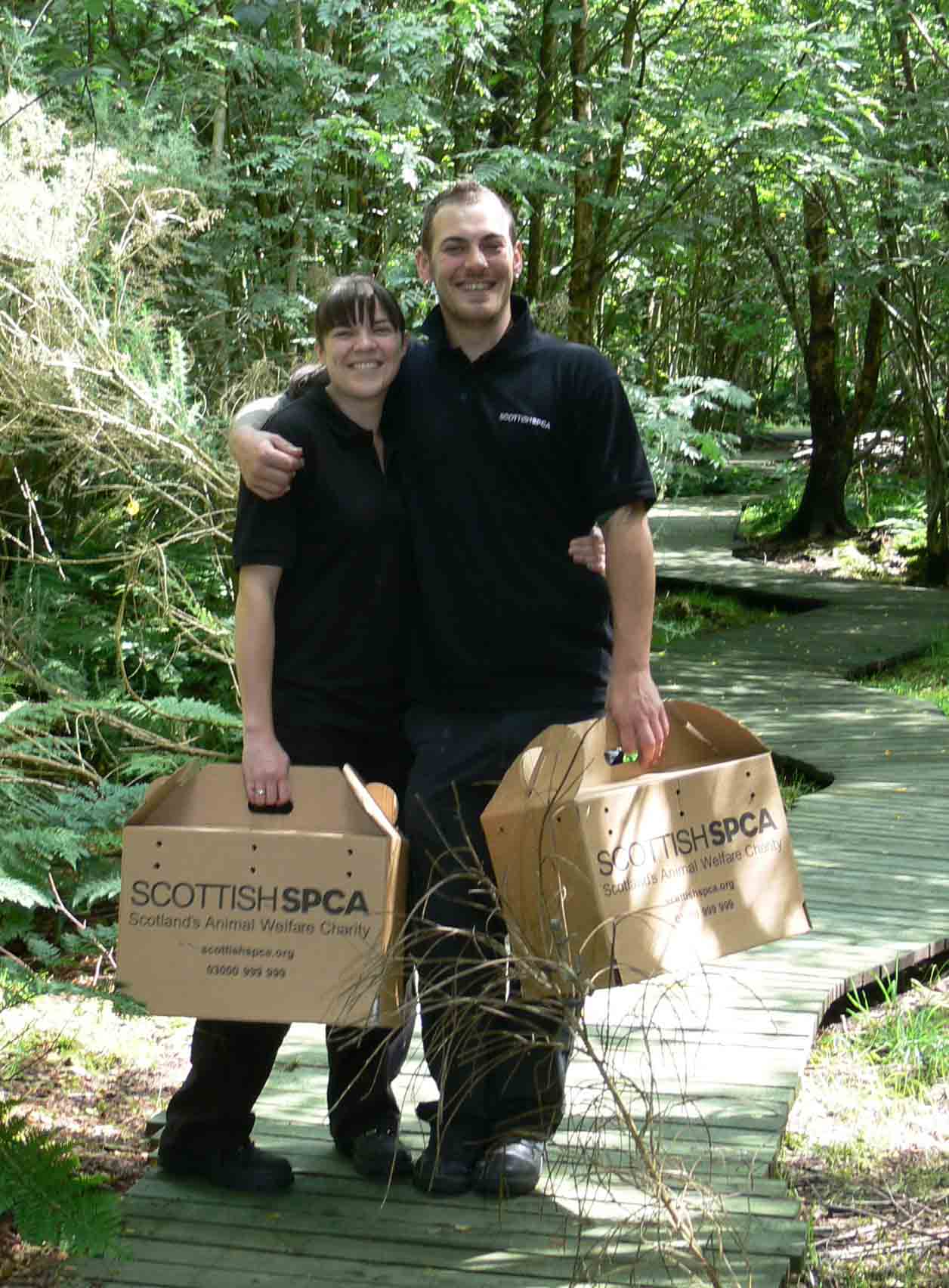 Volunteers help lay disabled access as part of the CSV 2009 Action Earth grant. The walkway gives disabled children and those with learning difficulties a better and safer access to the sanctuary.
CSV Action Earth 2009 volunteers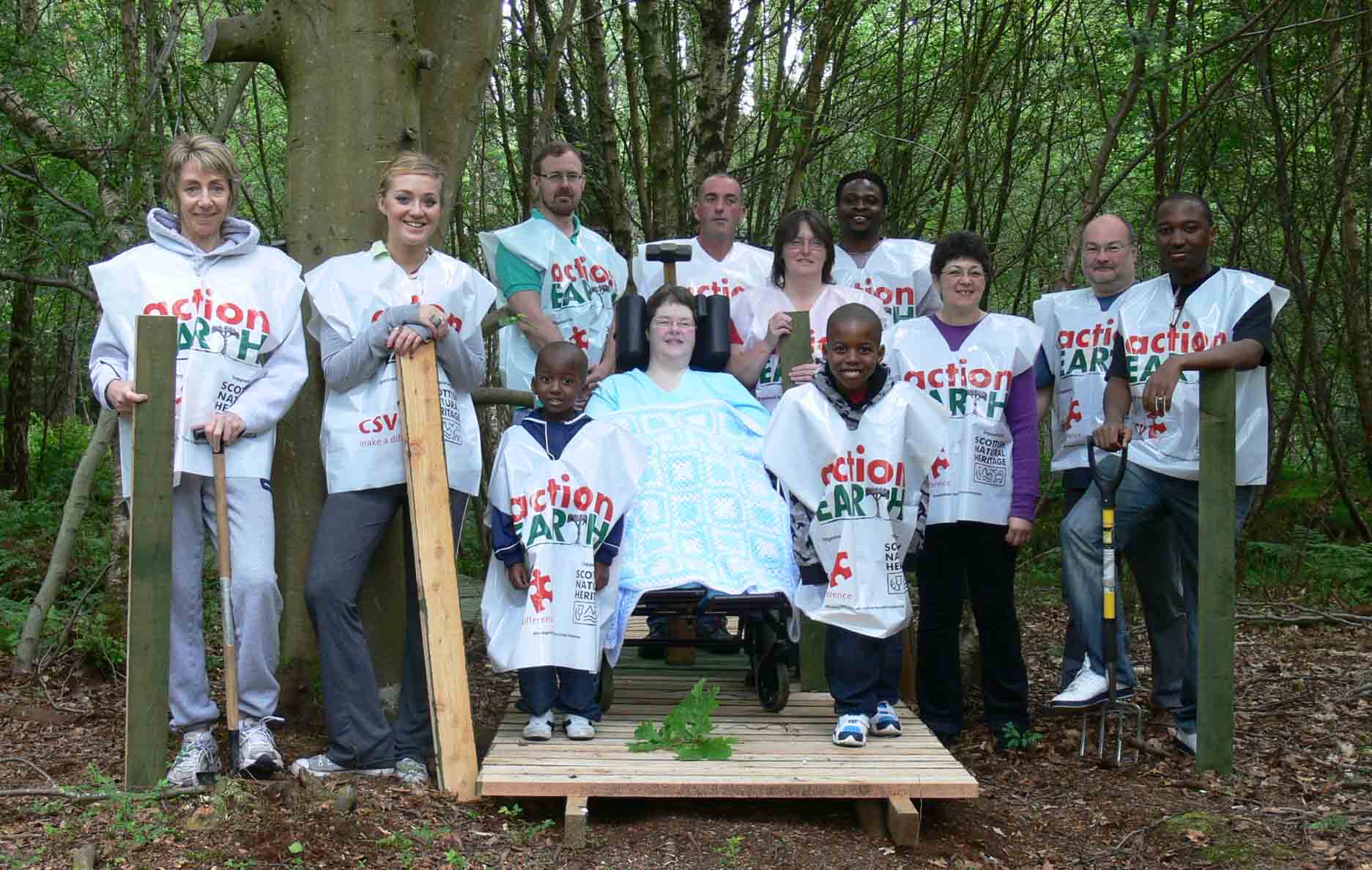 Volunteers from 34 Sqn RAF Regiment, RAF leeming & 58 Sqn RAF regiment, RAF Leuchars help with maintainence work at the sanctuary. The regiment who recently returned from a tour of duty in Afghanistan asked if they could assist with charity work which would give the troups an opportunity to 'wind down' after being in such an intense theatre on peace keeping duties.
Volunteers from 34 and 58 Sqns RAF Regiment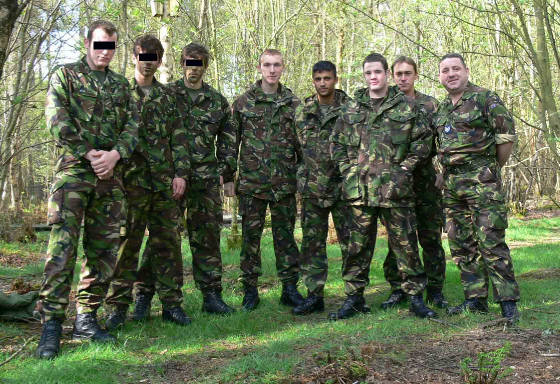 Two members of 34 Sqn with sanctuary owner Rosie, after their display in the art of concealment.
Two members of 34 Sqn with sanctuary owner Rosie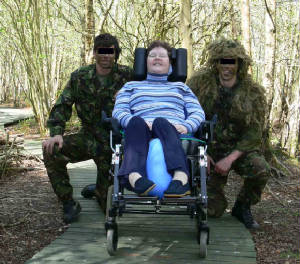 David Miller from BBC Scotland conducting an interview with sanctuary owner Jimmie about research being conducted by the Scottish Crop Research Institute and their business partner The Maldon Institute into squirrel pox.
David Mitchell - from BBC Radio Scotland